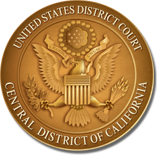 According to a document filed mere moments ago with the court, all parties to LA Catholic Worker and LA CAN v. City of LA, CCEA have agreed on a settlement. The terms of the settlement have not yet been announced, but they will be going to the LA City Council for approval "in the near future." If you're PDF-averse you can read salient selections after the break.


Defendants City of Los Angeles, Los Angeles Downtown Industrial District Business Improvement District, Central City East Association, Inc., and Plaintiffs Los Angeles Catholic Worker, Cangress, Harry James Jones, Louis Grady, Lloyd Hinkle, and Walter Shoaf, through their respective counsel of record, provide this Court with a report of the status of the pending settlement in this action.
As the parties previously apprised this Court, the parties reached a tentative settlement agreement on April 5, 2016, and have been diligently working to finalize all terms necessary to reach a full and final settlement of the case. The parties agreed to apprise this Court of its progress by December 8, 2016.
The parties have now reached agreement on all terms of the settlement. The parties anticipate approval by the Claims Board and the City Council in the near future. The parties agree to inform the Court in approximately 45 days, i.e., by January 20, 2016, of the progress in said regard.