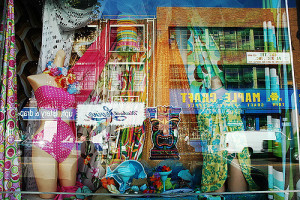 UPDATE 2:35 pm PDT: Judge O'Connell just now filed
a scheduling order
setting the upcoming settlement conference in this case for Monday, May 16 at 1:30 pm.
In February, Federal Judge Beverly Reid O'Connell extended the deadline for the City of LA and the Fashion District BID to reply to the initial complaint, which was filed in October of 2015 in the case of Aureliano Santiago v. City of LA and Fashion District BID. Last Thursday all parties to the case asked the Judge to allow the defendants more time to respond, as settlement negotiations are still ongoing. Yesterday the Judge entered an order putting the deadline off until June 11, 2015. The parties are presently trying to reschedule settlement discussions.


Picture of Michael Levine's front window is by John Watson, who has kindly released it under the CC BY-NC 2.0 and made it available via his Flickr stream.