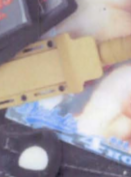 (See
Gale Holland's excellent story in the Times
for background).
Pleadings filed by the City of Los Angeles yesterday in Mitchell v. Los Angeles reveal that the Bureau of Sanitation confiscates and destroys pornography in the possession of homeless people, putting it on a par with hazardous and/or toxic material and other contraband. This practice is consistent with the moralizing attitude taken by LAPD RESET1 on their Twitter feed towards similarly legal activities when carried out by the homeless, e.g., alcohol consumption.
On Tuesday the City of Los Angeles moved that a number of the causes of action in the case be dismissed. One of their main arguments was that the plaintiffs failed to argue that their property "…was lawful to possess, and was clean or at least uncontaminated by direct contact with or close proximity to the hazardous materials common on a Skid Row street – feces, rats, maggots, blood, etc. – such that the property did not pose an immediate hazard to health.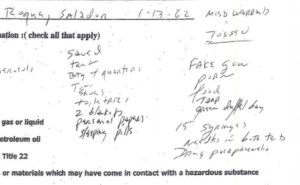 Presumably this was partially intended to set up one of the arguments they made yesterday in their opposition to the plaintiffs' request for a restraining order, i.e. that all the property in question was contraband and was therefore legal for the City to confiscate and destroy. They supported this argument with a Declaration of Steven Pedersen,2 who manages the City's cleanup crews on Skid Row. Contained in this declaration was a Health Hazard Assessment Report covering plaintiff Salvador Roque, which includes an inventory of his property, listing items "saved" and items "tossed," along with photographs.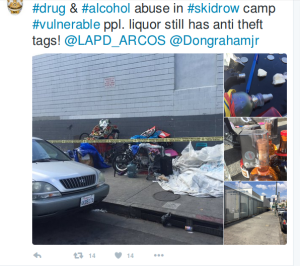 As seen in the images accompanying this post, among the items "tossed" was some print pornography. Some of Roque's "personal papers" were "saved" by the City agents, so it's not like they're getting rid of all paper as a health hazard, in fact they're singling out the pornography for destruction without any justification in terms of public policy, without even an attempt at such a justification.
We've written before about the weirdly hypocritical stance towards alcohol taken by the Hollywood BIDs, at least when it comes to the homeless, and this is certainly consistent with that. However, pornography not only fails to be a health hazard or any other kind of contraband, it's not only perfectly legal to possess, but its possession must actually be protected by the First Amendment. This kind of thing was not included among the plaintiffs' causes of action. Maybe its omission was a strategic choice given that possession of pornography is not an especially sympathetic cause, but the City's actions here are very disturbing and in my opinion at least, unconstitutional.

Images are public records obtained either from the Declaration of Steven Pedersen or from the LAPD RESET Twitter feed.

Resources Enhancement Services Enforcement Team. From Declaration of Andy Mathes: "We consist of 65 police personnel who, in Skid Row, patrol, perform outreach to provide social services, respond to calls for assistance from the public, serve as security for the Bureau of Sanitation of the Department of Public Works when it performs its regularly scheduled cleanings, and enforce the law.