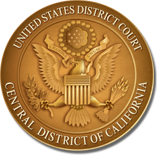 On Monday, March 21, 2016, there was a hearing on the plaintiffs' application to have the City of Los Angeles held in contempt for its failure to comply with discovery orders in the ongoing lawsuit against the City and the CCEA over the illegal confiscation of the property of homeless people. Recall that the plaintiffs asked the Judge to award them more than $40,000 in fees and to declare that the City was at fault as a punitive measure.
Well, the order resulting from that hearing just hit PACER, and the plaintiffs got some but not all of what they asked for. In particular, they were awarded $38,818.49 in fees. Judgement on the rest of the plaintiffs' requests was deferred. There will be another hearing on April 5, 2016, at 10:30 a.m. in in Courtroom 690 of the Roybal Building, presumably after which the rest of the matters will be decided. According to the order, by 48 hours in advance of the hearing,
The City is directed to complete its production, serve supplemental responses to the requests for production, respond in writing to the questions asked in plaintiffs' March 15, 2016 letter from Myers to Whitaker, serve a complete and detailed privilege log, file and serve a report describing the status of its compliance with this and other court orders, and pay the sanctions awarded by this order…
And there are more selections after the break.


The City must bring to the hearing such witnesses as may be necessary to explain what searches for documents have been undertaken, to describe how those searches were conducted, to certify the completeness of the City's production, and to recount the City's efforts to comply with this and previous orders.
The City must continue to cooperate in plaintiffs' efforts to mitigate the prejudice the City has caused to plaintiffs in this case by, among other things, stipulating to requests for reopening previously taken depositions or reasonable modifications of the case schedule.
The alleged lack of personnel to search for or review documents cannot excuse the City's violation of court orders. Therefore, the City must reassign such employees or retain such outside contractors as may be necessary to complete these tasks within the deadline established by this order.
IT IS SO ORDERED.