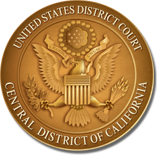 This is just a very quick note to memorialize tonight's filing by the plaintiffs in the Los Angeles Catholic Worker and Los Angeles Community Action Network's suit against the City of Los Angeles and the Central City East Association. Last Wednesday the plaintiffs filed a massive set of declarations and other stuff about ongoing problems with the City's discovery production in preparation for tomorrow's hearing (at 10 a.m.) on the plaintiffs' application to have the City held in contempt. First there is a notice of errata stating that they left part of one exhibit out of the Declaration of Shayla Myers in support of the application for contempt, and then, more interesting, the corrected Exhibit F. Some details after the break.

From a letter to City Attorney Ronald Whitaker from Plaintiffs' attorney Shayla Myers dated March 15, 2016:

We have reviewed the emails your office produced to our office yesterday, and have a number of concerns about the production. As you know, the City's production was due on Friday, March 11, 2016; as a result of the City's delay in producing these documents, we have had to quickly review the documents, so we may have additional issues; however, these are the issues we have immediately identified.
…
…with regards to the City Attorney's office, there are no emails from anyone whose first name begins with the letter D or later in the alphabet. Can you please explain this? In addition, there are no emails from Carmen Trutanich or Bernie Brown, who would fall in the list of emails that were produced. Are there no responsive emails from either of these individuals? I am aware of a number of emails involving both that would have been identified in the search as I understand it (as discussed below).
…
Finally, despite our discussion and what I understood was a clear expectation that the City would run searches using the search terms we provided, rather than serving providing [sic] us with the emails identified using "CCEA" and "Central City East", it appears that this was in fact what was produced. The production is both over- and under-inclusive. In particular, we received a very large percentage of emails that seemed only to be included because they involved CCEA personnel, not because they were responsive to our requests (for example, we received no short [sic] of 15 email invitations to a birthday party happy hour).

And this mirrors my own experience with CPRA requests involving LAPD anyway; they give you what they want on their own schedule with little to no explanation of how it relates to what you asked for, and there's a massive amount of duplication of irrelevant bulk email blasts and very, very little that's interesting. I can understand at least in theory why they're so careless with CPRA requests; there are no consequences for not being. But here they're risking having that big (metaphorical) Federal gun pointed at them, and it may well end in tears. I'm quite disappointed I have to work tomorrow; the hearing will just have to be more interesting.