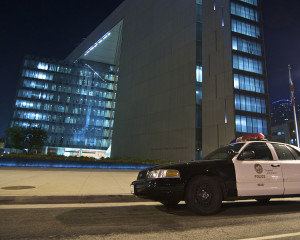 Papers newly filed in federal court reveal an astonishing unwillingness on the part of the City of Los Angeles and the LAPD to release public records and other documents to the plaintiffs in the
Los Angeles Catholic Worker and LA Community Action Network lawsuit
. A few days ago
I wrote about
these filings in general and today I'm going to discuss some specific details about the City's claims regarding the LAPD's email system and how, they say, it's preventing them from complying with the discovery process in the suit. This topic is, of necessity, mostly inside baseball both legally and technologically, and maybe you want to skip it if that bores you. If so, the TL;DR is that the LAPD contradicts itself constantly about the availability of its emails for legal discovery, and the LAPD only looks even more furtive when facts related to Public Records Act requests are considered. All four of the documents I discuss below were extracted from
Part 2 of Catherine Sweetser's declaration
, filed with the court on December 8, 2015.
On October 15, 2015, after what has evidently been a long and painful process of trying to get the city of LA to hand over documents, Catherine Sweetser, an attorney for the plaintiffs, sent over a letter to Deputy City Attorney Elizabeth Fitzgerald, stating in part:

At the meeting, you suggested for the first time that requests to which email communications would be responsive were all overly burdensome, given the City's technical limitations. It is our understanding that it is the City's position that these requests are burdensome because 1) the City cannot produce any emails from LAPD from before October 2014 because LAPD deletes all emails after one year and therefore, the only emails that exist are those sent after October 9, 2014; and 2) the City is in the process of switching over from its current Postini email system to Vault. This new system will make searches possible, but no emails can be produced until the City completes this transfer, which will occur no earlier than January or February 2016.
You offered to provide us with a detailed declaration outlining LAPD's policy and practice of deleting email, including whether any backups exist; and a more detailed explanation about the other City department's [sic] limitations in accessing emails, including when the transition began to a new system, why the emails cannot be accessed, and when this may be remedied.
Please provide us that declaration no later than October 22, 2015. We request that the declaration include: the exact method of retention of emails and the method of deletion of emails (automatic? Individual? At a centralized server?); and the details about the transition between systems and how emails are being preserved/maintained/retained/sent in the meantime, with exact dates of when the transition started and when it will end.

So here is the declaration of Leshon Frierson, a senior systems analyst with the LAPD. It was taken on October 28, 2015. In his declaration, Frierson makes at least two astonishing claims about the inability of the LAPD to search for emails by keyword:

First, with respect to emails sent or received prior to March 2013, LAPD has no archives1 for those emails. As a result it is impossible to do keyword searches of emails prior to March 2013. LAPD only has back up tapes prior to March 2013 which are difficult and extremely time consuming to restore. A search of the emails of LAPD employees would have to be conducted box by box — checking each email box for each employee of LAPD. Such a task would entail thousands of hours of time.
Second, with respect to emails sent or received after March 2013, a keyword search using the terms in paragraph 4 would also be impossible for LAPD given the state of its technology and its resources. Such a search would tie up the server for weeks and would require thousands of hours of employee time.

On November 3, 2015, plaintiff's counsel Shayla Myers sent a letter to Deputy City Attorney Elizabeth Fitzgerald expressing grave doubts about Frierson's declaration and pointing out some of its misrepresentations. And it's worth reading. She doesn't discuss, though, the fact that Frierson also reveals that LAPD email runs on the Novell Groupwise platform, which makes the plausibility of some of these claims checkable. And when I checked, I found out that, while Frierson may well be telling the truth about the state of the LAPD's email system, he's neglected to mention that the LAPD's deficient search capabilities are the result of their willful choices.
First of all, Groupwise comes with a built-indexing capability called Quickfinder. However, it's true that the Groupwise manual suggests that some indexing (and therefore search) tasks may stretch the abilities of Quickfinder. I'm skipping the thorny details of Novell's recommendations for how to deal with these issues, because a little more Googling reveals the existence of a software tool called Retain for Groupwise. This tool is specifically designed to integrate legal discovery capabilities with Groupwise and:

…includes powerful tools to enable your organization to quickly access, search, and audit archived communication data. Easily place litigation holds, print, forward, save, redact, and export your message data. Retain reduces cost, mitigates risk, and manages complexity on prem or in the cloud..

This software also allows searches by keyword across multiple mailboxes. Not only does Frierson deny that this is possible, but I myself am in possession of an email from Debra Green, of LAPD discovery (which also handles public records act requests) stating in another context that the LAPD does not have the capability to search in this way. Frierson makes it sound like the LAPD's lack of basic search capabilities is due to some inevitable flaw in Groupwise, but it's not. The LAPD has chosen not to have the necessary search capabilities. Note that Retain also archives Groupwise emails, which would solve the tape back-up problems that Frierson describes.
And who uses Retain and why? Well, the city of East Grand Rapids, for one. And why do they use it? Well, according to Gary Veldhof, who

is the IT and Finance Analyst for the city. He manages their email post office with 80 users. He knew that they needed to implement an archiving solution so that the city would be compliant with regulations for communication retention. He stated that the Freedom of Information Act meant that as a government, they needed to provide access to all communication, including email, to any citizen that asked for it.
He and other officials in the East Grand Rapids city government also knew that it was important to store emails for legal reasons. In case someone were to bring a lawsuit against the city, they would likely need to provide email correspondence as evidence. A reliable archiving solution would give them peace of mind.

So look, some little city in Michigan knows how to manage its Groupwise email server so that they're able to meet their legal obligations. And why can't Los Angeles do the same? It's not because this city is so much bigger. The freaking government of Austria uses this archiving software:

Retain allows BRZ [Bundesrechenzentrum…or Federal Computing Centre of Austria] to be legally compliant in archiving their email messages. They also wanted to leverage the strong reputation and support of GWAVA.

So it's not a question of scale. For what it's worth, Wikipedia claims that Austria has more than twice the population of Los Angeles. Well, anyway, I'm looking forward to the upcoming hearing on this issue. There will certainly be plenty to discuss.
The difference between archived data and backed-up data is that archived data can still be searched, exported, and generally made use of. Backed-up data may not be easily or immediately accessible, and, as Frierson says, if it's on tape this may well be the case. Always remember, though, it's LAPD's decision to back up to tape rather than to archive in some accessible format.
Image of LAPD Headquarters is available from Wikimedia and was released under the CC BY-SA 2.0.