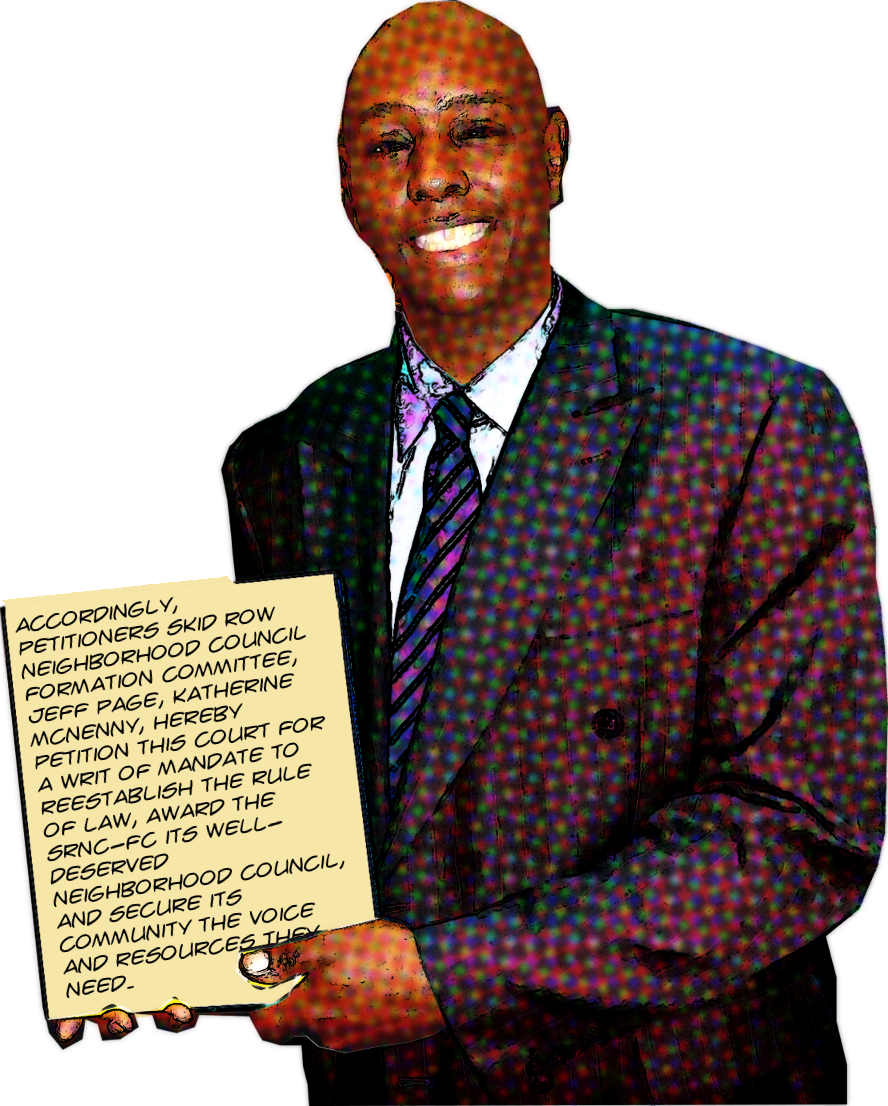 Background: You can read my previous stories on the Skid Row Neighborhood Council formation effort and also see Jason McGahan's article in the Weekly and Gale Holland's article in the Times for more mainstream perspectives.
I haven't reported on it before, but maybe you're aware nevertheless that the Skid Row Neighborhood Council Formation Committee along with founding members General Jeff and Katherine McNenny are suing the City of Los Angeles over their egregious, illegal, and immoral vote suppression and other horrors during the subdivision election last year.
And just yesterday they filed a second amended petition, which lays out the evil shenanigans committed by the City of Los Angeles in collusion with Estela Lopez, Rena Leddy, and other Downtown zillionaires and zillionaire lackeys, This is a blistering and righteous piece of legal writing. I highly recommend that you read all of it, although here are the main issues, and as always there are transcribed selections after the break.
◈ The City prohibited homeless voters from voting online or at any of the twelve pop-up polls, which seriously advantaged the anti-subdivision side.
◈ The City's voter registration requirements disenfranchised the largely black homeless population of Skid Row, which violates the Voting Rights Act.
◈ The City's last minute implementation of online voting and secret alterations of pop-up poll timing unfairly advantaged the anti-subdivision side.
◈ Online voting violated California Elections Code §19205, which states unambiguously that "No part of [a] voting system shall be connected to the Internet at any time."
◈ DONE's pop-up polls violated §22.820 of the Los Angeles Administrative Code, which requires that neighborhood council subdivision elections be held solely within the proposed boundaries.
And the main thing they're asking the judge to do to remedy these and the other violations is to discount online votes and votes submitted at pop-up polls and award the SRNC formation committee their neighborhood council. There is much, much more, all of it, as I said, worth your time to read and understand. Turn the page for transcribed selections from the petition.
Continue reading Skid Row Neighborhood Council Formation Committee Files Blistering Petition In Superior Court — Asks Court To "Reestablish The Rule Of Law" — And Require The City Of Los Angeles To Award Skid Row "its well-deserved Neighborhood Council" →