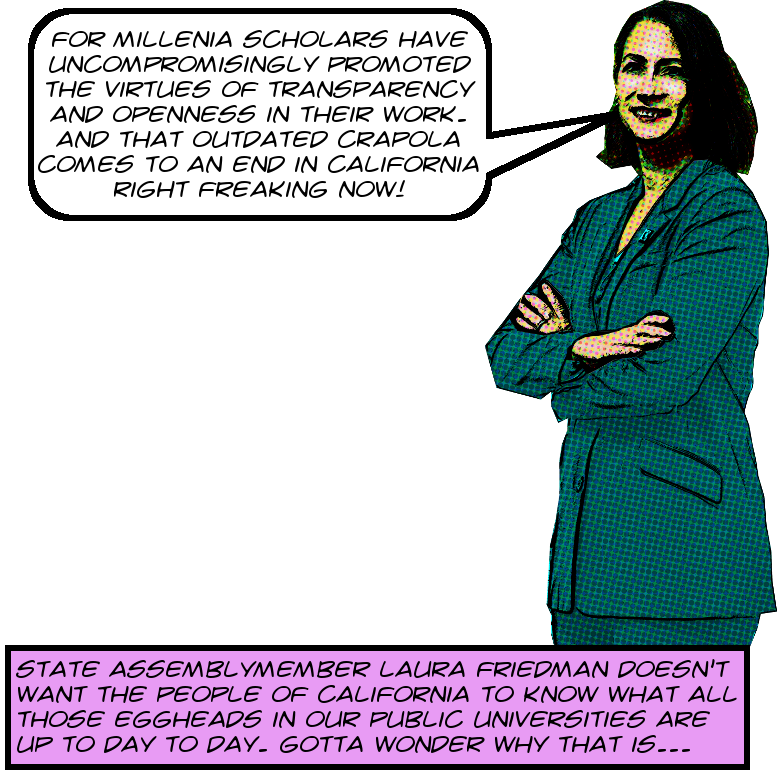 California State Assemblymember Laura Friedman introduced AB700 yesterday, which would add an exemption to the California Public Records Act allowing public colleges to withhold specified information about faculty members. The to-be-exempted information includes home addresses and telephone numbers, calendars, office assignments, and room assignments.
The fundamental principle of the CPRA is that all records are subject to release unless specifically exempted, which is why this bill is necessary to prevent the release of this information. But the exemptions that this bill would add are either unnecessary or very, very wrong.
First of all, sure, don't tell people where the professors live or what their phone numbers are. But this is already covered by §6254.3(a), which tells us that "[t]he home addresses, home telephone numbers, personal cellular telephone numbers, and birth dates of all employees of a public agency shall not be deemed to be public records and shall not be open to public inspection…" We don't need a new law to allow that information to be withheld.
And the rest of the information that would be exempted here absolutely ought to remain public. I don't know but I'm reasonably sure that this bill is in response to various groups and individuals, including PETA, as well as other people critical of faculty research that have used CPRA to obtain information about professors.
Some professors have been targets of violent protests, so I suppose that seems like a reason to exempt their appointment calendars. But it really isn't. Appointment calendars are an essential tool in understanding what public employees are up to. Who they've met with, how long and how often they've met with them, and so on, are quintessential public information. Professors are subject to influence by interest groups just like anyone is, and this information must be available so that that influence can be analyzed.
And it's not just professors' schedules at stake here. If we exempt these using security as an excuse it won't be long before all public employees schedules are exempted. Just for instance, ultra-corrupt Los Angeles City Councilmember Jose Huizar famously ordered his staff to alter his calendars in response to CPRA requests from the LA Times. How much more expedient for him would it have been to have an actual exemption written into the law?
Also, this bill is far too broad. It would exempt "records relating to the physical location of faculty members." Again, I suppose the idea is to protect the security of the faculty. But faculty teaching schedules, office assignments, and so on are typically posted on the open internet. The CPRA at §6254.5 requires the release of all previously released information, and publishing information on the open internet is about as released as information can get. So most exemptions for this information will have been waived. What a logistical nightmare for universities to comply with.1
So yeah, I'm against AB700. Stay tuned for further developments. And turn the page for the legislative counsel's digest and the proposed text to be added to the law.
Continue reading Assemblymember Laura Friedman Introduced AB700 Yesterday — Would Add Exemption To Public Records Act For Information About Public College Profs In California — Including Their Calendars And Appointment Logs — This Is A Really Really Bad Idea — Is Possibly Pushback Against Animal Rights Groups And Other Activists — But Too Early To Tell →