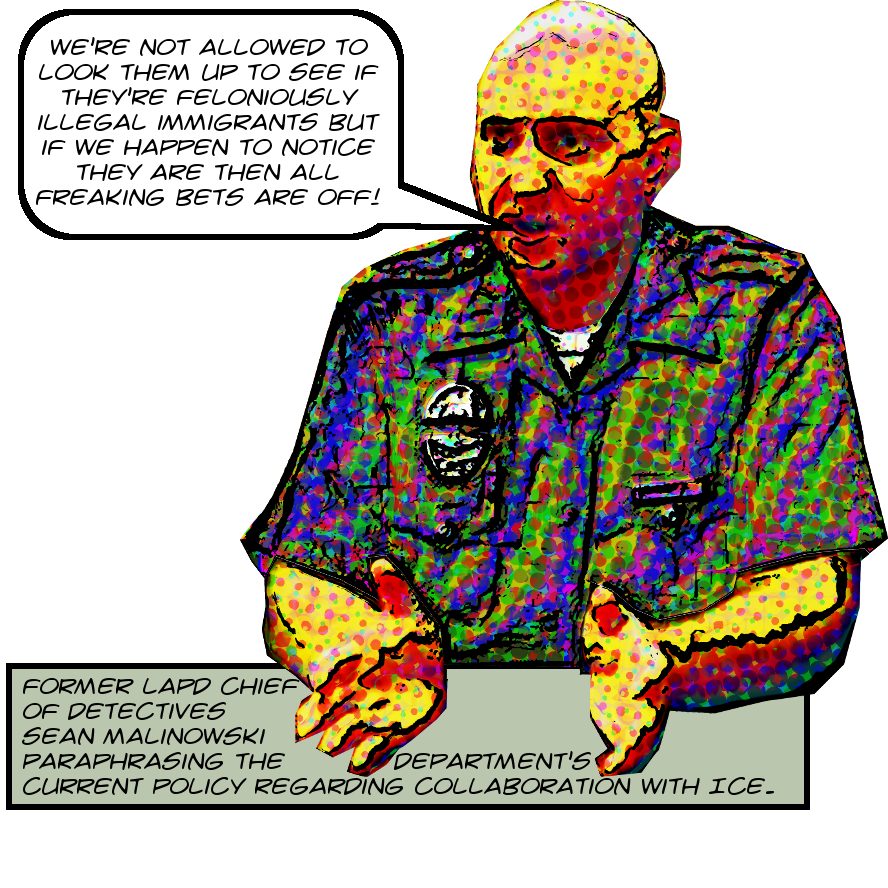 I recently published a set of notices issued by the LAPD Chief of Detectives over the years. There's a lot of interesting stuff in there, including the records on which this story is based. Today we have a set of four notices, the earliest from 2009, explaining how LAPD is to interact with Immigration and Customs Enforcement with respect to undocumented prisoners in the context of Darryl Gates's famous Special Order 40, which forbade officers from questioning anyone with the sole purpose of determining their immigration status. Here are links to the four notices, each of which is superseded by the subsequent one:
☆ CoD Notice 8.4 — July 1, 2009
☆ CoD Notice 1.8 — December 21, 2016
☆ CoD Notice 1.8 — May 17, 2017
☆ CoD Notice 1.8 — October 12, 2018
This recent flurry of revisions was required by the California TRUST Act, signed into law in October 2013 which, according to the LA Times, "prohibits state and local law enforcement from holding people longer than 48 hours for federal immigration agents — unless they've been convicted of certain crimes, most of them serious or violent." These directives codify how this requirement is to be implemented by actual LAPD officers with respect to actual prisoners.
The detailed rules explain when they're allowed to look up immigration status information, what kinds of information they're allowed to act on, how they're allowed to act based on the information, under what circumstances LAPD will hold prisoners for transfer to ICE, and so on. The rules are technical and I am in no way qualified to interpret, explain, or even opine on their meaning, but these rules are so important and so timely that it's clearly necessary to publish them anyway. I know there are people out there who need this information.
There's a transcription of the most recent one, which explains LAPD's current policy, below. I will say in closing, though, that given the nightmarish conditions, the sexual torture, the murder, going on in ICE's concentration camps, I cannot actually imagine any circumstances whatsoever in which LAPD, or anyone, ought to turn anyone over to them, no matter how terrible their crimes, and the list of crimes for which they can be turned over includes forgery and suborning perjury and things on that level, none of which are worth putting someone in Dachau over.1 It is clearly time for a fifth revision of this policy.
Continue reading Ten Years Of LAPD Directives Regarding Cooperation With ICE — There Have Been Four Versions Of The Rules Since 2009 — But As Of October 2018 There Are Still Specified Circumstances Under Which They Will Still Honor ICE Detainer Requests — And Hold People So That ICE Can Take Custody Of Them →