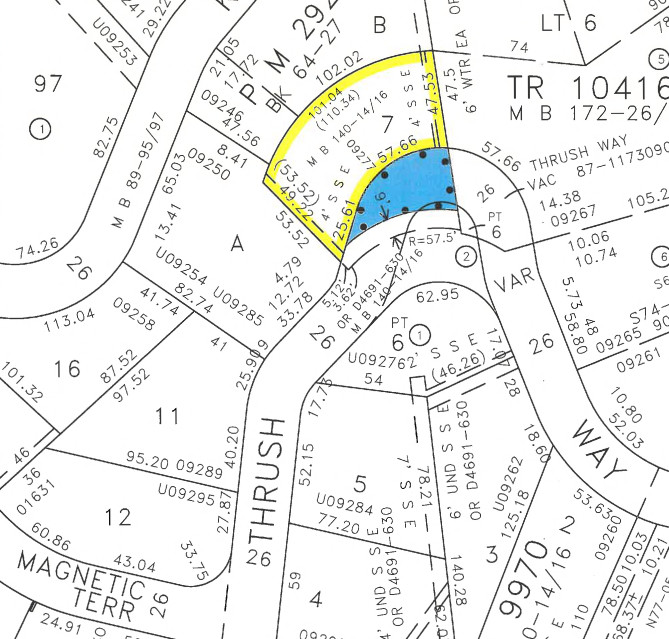 In 2004 LA City Councilmembers Jack Weiss and Greig Smith initiated the process of giving away a piece of Thrush Way, up in the Bird Streets, to the owner of an adjacent parcel.1 As they will do, the City Council approved the motion in January 2005, but the property owner dropped the ball, missed some requirement or another, and the offer expired.2 The parcel used to be in CD5, which is why Weiss was involved, but now is in CD4.
According to ZIMAS the property was sold in 2014, apparently to an LLC owned by a Costa Mesa man named Rami Batal, known as 5B Enterprises. Batal3 hired land use lobbyist Randall Akers to revive the street vacation plan. In 2016 this actually happened, with a motion from Joe Buscaino, seconded by David Ryu.4 The new motion ended up in Council File 16-0566. It generated a ton of opposing public comment and apparently more than one lawsuit, which explains why, on March 22, 2017, the Council voted to continue and file the motion.5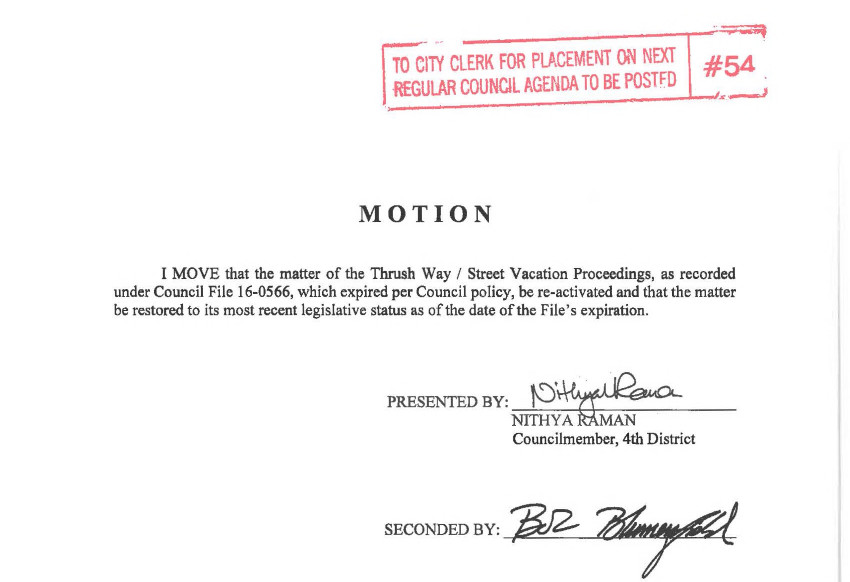 And that's about it! Oh, wait, that's about it until four years later, on March 2, 2021, when Nithya Raman, who famously showed weirdo incumbent David Ryu a thing or two last year, filed a short but exceedingly consequential motion of her own, seeking to reactivate the council file. Nury Martinez didn't fool around with this one, by the way. She didn't send it to a committee, but rather, the very same day Raman filed it Martinez referred it to the full council and a few days later the Clerk put it on the agenda for April 6, 2021.6
There's no way any of this happened spontaneously, of course. Raman didn't spend the first four months of her term sifting through her predecessor's idiotic expired projects looking for the absolutely most idiotic ones so she could reactivate them for no reason at all, did she? Someone came to her and asked her to do it. Probably unregistered lobbyist Akers, but there's no way to be sure right now. Maybe she and/or her zillionaire hubby are zillionaire besties with owner Rami Batal, who knows?
It certainly wasn't the neighbors who convinced Raman to reopen the file, by the way! On March 4, 2021, just two days after she filed it a hitherto unremarked gang of thuggish NIMBYs known as the Doheny Sunset Plaza Neighborhood Association flipped out and published a blog post asking why she hadn't discussed it with any of them and encouraging their cronies to write, call, and comment.
They're a remarkably unsympathetic crew, these Dohenyites, what with their private security patrols and pissy moaning about what passes for serenity and quality of life up there in zillionaire heaven, but they have some clout. None of their comments made it into the Council File. Maybe they never even made any, there's no way to tell.
But whatever happened Raman apparently got the message. Again without explanation, without any publicly disclosed reasons, the item was continued indefinitely yet again, to linger in limbo until someone else reactivates it. Maybe Raman if7 the mask comes fully off, maybe a successor.
Or maybe it's finally disposed of at this point, who knows? In any case, it's an interesting and as-yet-unresolved story that's a little, maybe a lot, in tension with Raman's public positions on just about everything, and so certainly worth telling!